NAP simply means your Business Name, Address, and Phone Number in the order. As you already know, NAP is a very important ranking factor when local SEO for your business comes in. This is because it directly affects local intent searches on Google and other search engines like Yelp. Occurrences of NAP data around the web are called citations.
It is known that out of the top 6 "Basic Ranking Factors", 3 are related to citation quality, quantity, and consistency. The QUALITY and QUANTITY of citations of your business on directory sites (like Yelp and Manta) are a major factor when determining how you rank locally.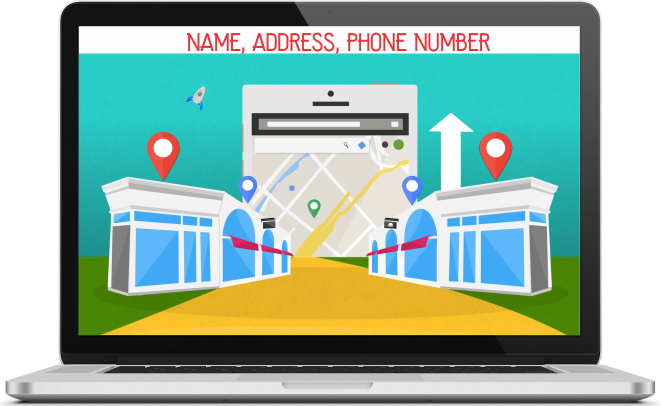 What is NAP Inconsistency? :-
NAP Inconsistency is when your business cannot be found on major business directories in the accurate form (NAP format). This, in turn, makes you rank for non-competitive keywords that are either not important to your business or will not just bring you sales. It can be an overwhelming task finding NAP Inconsistencies and it's often easy to mistakenly create duplicate content especially when it is being done by the wrong hands or just "ANYBODY". Sometimes the mistake is as easy as using your business tracking number or your old numbers. This automatically creates duplicate content on that directory. Sometimes, the mistake could be as little as wrong spellings. All these little errors make it frustrating to correct NAP Inconsistencies.
It is not enough to keep submitting your Data to Google My Business. As a matter of fact, this can be hazardous. This is because Google and other search engines/directories collect information from data providers (like Factual and InfoGroup). This way, search engines are constantly increasing their database. This also means different data about your business are being fed into Google (Either Positive or Negative) from various sources. This means that these sources must always feed-in the right information about your business into Google and other search engines in order for your local rankings to increase. Also because you just fixed one of the numerous listings with your correct information doesn't automatically make your business rank high for the keywords you want.
Our tool makes you take total charge of your Local SEO ranking by offering you the following:
Easy to use:  This is because you just have to Input your Business name, Phone Number, and Location in the order and we will bring up your information in a very organized manner.
Citation Finding:  We check the top business directories including Google to find citations of your business and displays this information to you immediately.
Checks for Inconsistencies:  Not only does our tool check for citations, It also checks for NAP Inconsistencies according to the information you provide.
Easy Fix:  With our tool, You can easily fix your Inconsistent Business Listings by clicking a Simple "FIX NOW" button.
Suggestions:  Our tool also brings up other business directories that don't have your listing (As Suggestions) so that you can easily submit your new correct business listing, Thereby increasing your Local SEO ranking.
We will not only check for inconsistencies, We also make sure the right information about your business is being fed into the local business ecosystem accurately in order to increase your local search ranking. We also use best practices (like maintaining the NAP format) to make sure your accurate listings stay on the major directories in order to boost your local SEO ranking. Whether your business just kicked off or has been around for a while, Your business data (either positive or negative) is definitely in the local SEO ecosystem. Take charge of it today, Order Now.
Aren't sure about your business data being in top business directories? We have developed a free tool to check your listing. Do well check your business out.
Citation Building Package
One Time Cost – No More Recurring
Pro
Spin Description

( You Need to Provide)
Special
Spin Description

( You Need to Provide)
Elite
Top + Niche +Geo + Web2.0 Sites

Spin Description

( You Need to Provide)
Citation Audit is a careful analysis of top directory sites for inventory of business existing citations.
When we talk about the analyzing Competitors citation, We mean studying your competitor's citation
You know by now that if your business has a physical store, It would be of great benefits
Even the top successful brands know that focusing on boosting their local search engine ranking
Your local search engine optimization ranking totally depends on the many factors.